Continuing the posts on the Rllmuk photo competitions, next in line is September 2013, with 'Contrast' as the subject. I was rather lacking inspiration for this, and tried out a number of different things before ending up at something I liked enough to enter. Read on for the process, and a couple of intermediate photos.

I couldn't really decide on if I should interpret the subject as a pure visual contrast (for instance black/white or bright, different colors), or in a more metaphorical way (as in juxtaposing old/new, artificial/nature, etc.) – or as a combination of these two. I could envision nice shots with both interpretations, but obviously it's a long way from thinking about a shot that might look good, to actually finding that particular subject and then getting the shot.
In any case though, after having tried to figure out a decent idea for the photo, my first attempt (about halfway through the competition timeframe) ended up being of some moist cobblestones in some lazy afternoon sun (50mm, f2.0, ISO200, 1/4000s):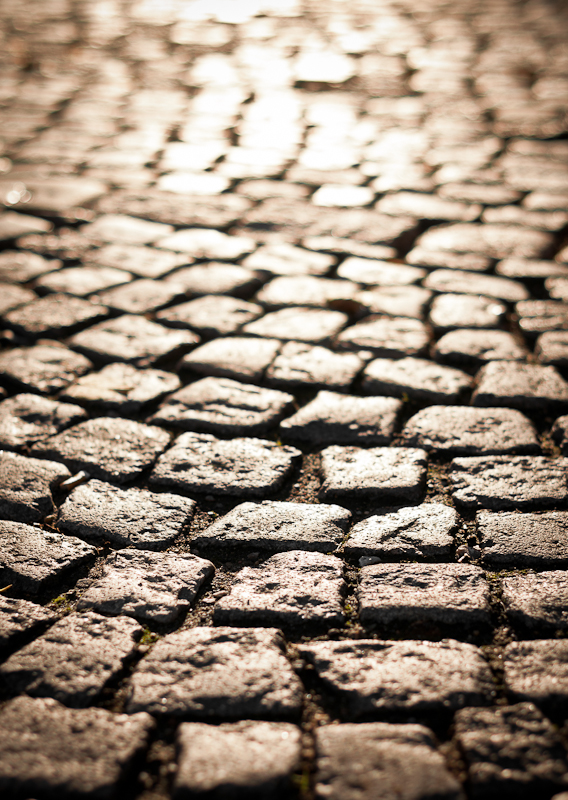 I liked the image (mostly the color tones and the crispness of the stones in focus), but I also realized that it's probably a bit boring. So I kept trying to think up a better idea. I went over trying some long-exposure shots of a full moon on a partially clouded night, with some trees silhouetted against the sky. Didn't really work out that well, and me trying to handhold 2-second exposures proved that it was probably also a bit of a halfhearted attempt…
The evening before the last day of the competition, I finally got a decent idea though. I had a vase with a large sunflower in my living room, which was starting to wither. Juxtaposing this sunflower close to some "fresher" plants could be an interesting thing to try out, and the bright yellow color might also serve as a nice visual contrast to the distinctly non-yellow colored plants that I otherwise have in my apartment. The two main problems would be getting the plants positioned well, and getting the lighting right. So, I pulled out my desktop lamp and another small lamp I had lying around, and mounted them on a stepladder and one of the chairs in my living room. The setup was neither particularly stable nor easy to adjust, but it worked (or well, it did after wrapping the smaller lamp in aluminum foil to get it working as directional as possible).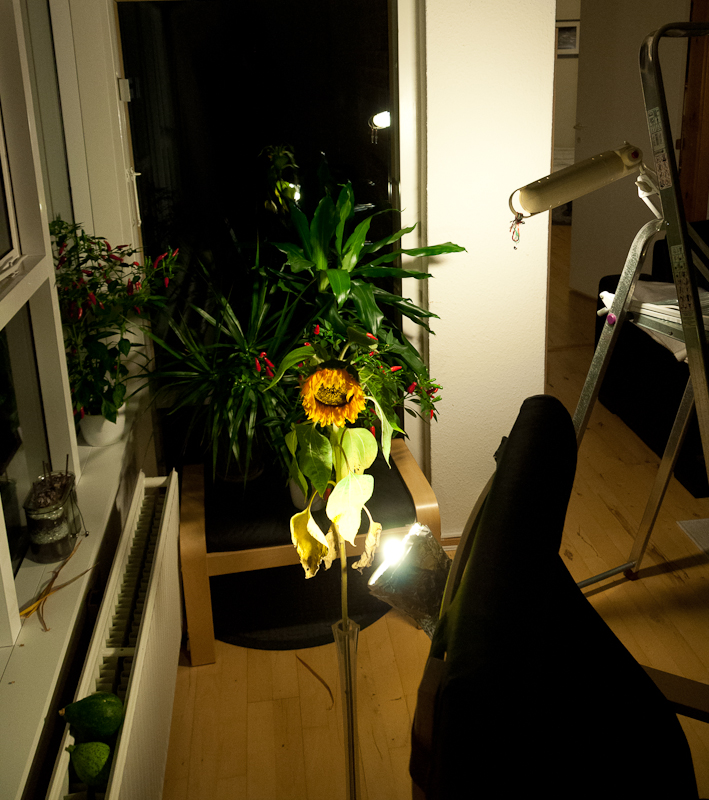 I now had lighting that kinda worked, with the desktop lamp serving as a fill light, and the smaller lamp as a spot. I now just had to try out a lot of possible positions of the various plants – mostly the sunflower up against my homegrown chilipeppers and a dracena of some sort. I couldn't really get it to work though. One of the better attempts was a closeup of the sunflower, surrounded by both red and green chilies (90mm, f/5.6, ISO1600, 1/15s):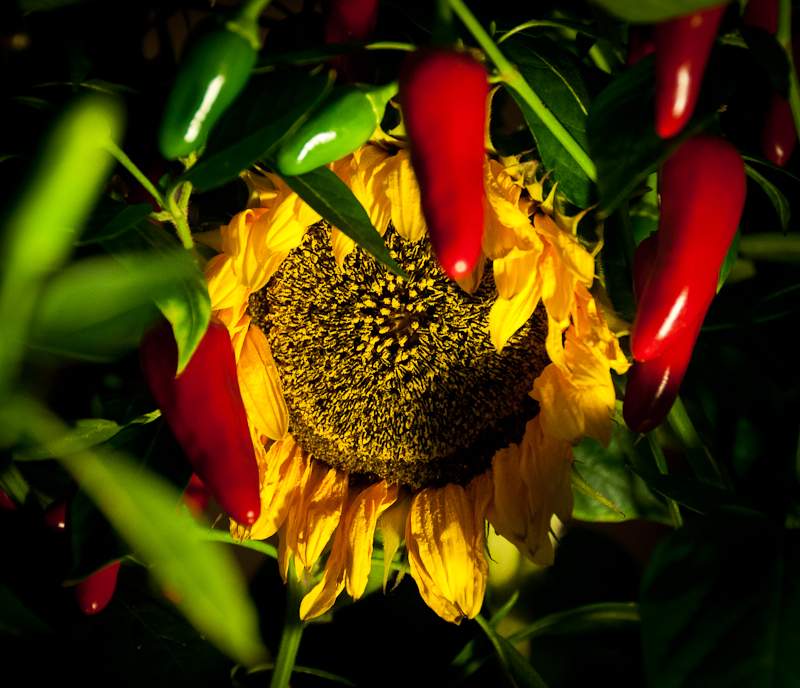 But still, I wasn't happy. The sunflower was working well, but I felt that the rest of the plants weren't. I then turned towards one of my walls, where I have a 100x60cm canvas print of a Taiwanese lotus flower hanging (it's one of the pictures on my Sumopix profile). That could work…
So after rearranging one of the lights, mounting my 50mm f/1.4 lens (and in turn mounting my camera on the stepladder using my Gorillapod), and getting the sunflower propped up high enough, I was finally getting somewhere (50mm, f/8.0, ISO400, 4.0s):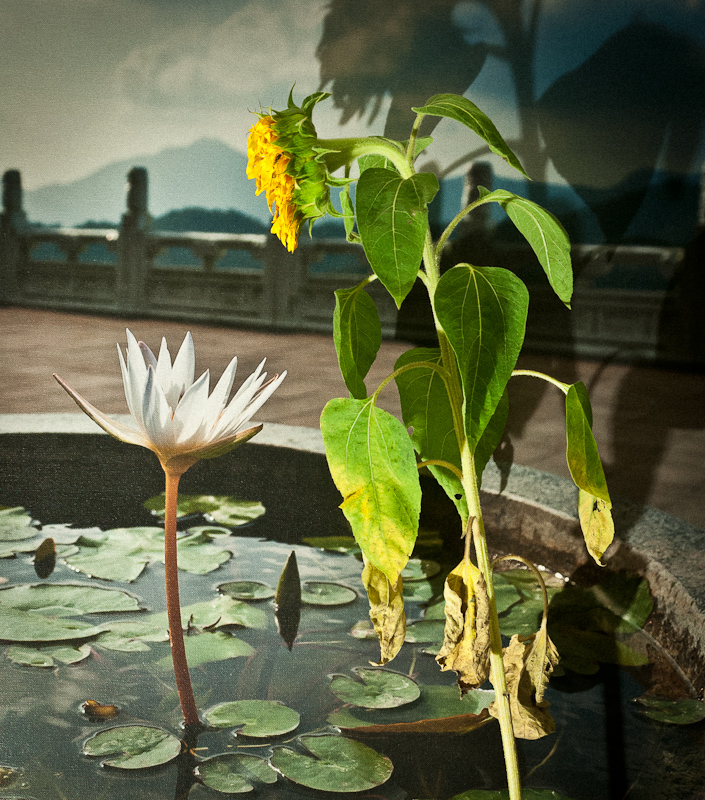 This is the final photo that I entered into the contest. It's obviously mostly playing on contrast in the metaphorical sense – a real, but dying, sunflower, opposed to the immortal photograph of the lotus flower. My entry didn't win, but it's still currently one of my favorite shots from this year – and I got to play around quite a bit with some lighting, which is something that I haven't really done much. Was very interesting to play around with the shadows and highlighting (or hiding) specific parts of the subject simply by rearranging the lamps – something I should probably try exploring more at some point, even though it's a bit cumbersome with my current household equipment ;)